Vietnamese Silky Long Hair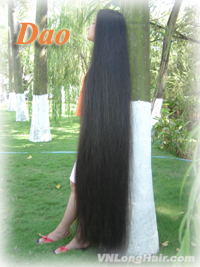 This site is dedicated to people who love and appreciate long hair. Here you will find lovely pictures and videoclips of Vietnamese girls with luxuriously silky long hair. We have a great variety of long hair DVD's for sale. Our selection include photos of long hair models with: their hair down, their hair styled in various hair does, their hair getting washed, and many other poses. Become a member today and you can view thousands of long hair photos and numerous videoclips, as well as, get discounted prices for your purchases. This ever growing gallery is updated with tons of new images every 1-2 weeks. You can also discuss your ideas with other members in the forum. Membership to this world of possibilites is available for the price as low as only $15 per month. Join Today!!!

VIP MEMBERSHIP NOW AVAILABLE!!!

VIP Benefits include:
Access to our Special Floor Length Model Thu Huyen and Dao; also, other new knee length models; in additional to our weekly long hair models
An Extra 20% off already low standard membership product prices
All orders of DVD's come with Free Picture CD's if available and requested by customer
Receive LOWER shipping/handling charges.
Access of all VNL videoclips and exclusive VIP videoclips
JOIN AND BECOME A VIP TODAY!!!

(Current members need to cancel regular membership before signing up for VIP.)

PLEASE NOTE: Beginning July 2007 all membership subcription payment will be NON-REFUNDABLE.
Upcoming Events
The next update will be on June 25th, 2017.
Photos and videoclips will only be kept for about 3 weeks due to limited server space. Therefore when you join you will be able to view photos and videos from 3 weeks earlier and the 4 weeks of your subscription. This means for one months subscription you will be able to view 7 weeks worth of material.
Long Hair News

Now more than 120 videoclips are available.
Once videoclips are purchased, they will be sent automatically to the email address you used for payment through Paypal for immediate download.


We will also upload new videoclips of your choice upon request. You can make a request through our forum or send us an email with your request.
Weekly Updates
UPDATE: June 11th's DOUBLE update is ready for viewing. The VNL models include: Huong Ta, Loan, Nina, and Videoclips.
The VIP models include:
Dao, Hang, Lam, The, The & Thao, and Videoclips.
UPDATE: April 30th's DOUBLE update is ready for viewing. The VNL models include: Donna Dung, Hong, Hong & Phuong Lee, Hong & Van, and Videoclips.
The VIP models include:
Anh & Dao, Dao, Dao & Hoai, Diamonds at the Sea, Giang, Hang, and Videoclips.